I use gemstone bracelets to help with all sorts of situations, such as psychic attacks, connecting with my Greater Self, grounding and removing unwanted energy. Gemstones are our etheric helpers on the planet and, like the dolphins, I have found that they are ready and willing to help us. All we have to do is ask. It's easier to wear a bracelet than carry a bunch of stones in your pocket, and the stones seem to work better if they are worn next to the skin.
I connect with the gemstones with my heart energy and I ask them for what I need. Wearing a gemstone bracelet won't immediately solve all of your problems, but it seems to help a lot. I talk to the stones as if they are a friend, which they are.
Quick Links to all the bracelets:

The bracelets I sell are made on nylon stretchy wire, so the bracelet rolls easily over your hand. Please indicate your wrist size when you order the bracelet. Bead look and shape may vary from the pictures due to the beads that are available.
Price: As shown
Shipping & Handling: $8 USPS Priority, $12 International per order
Prefer to pay by cash order money order? Download my Bracelet Order Form and send with payment.
Abundance - $35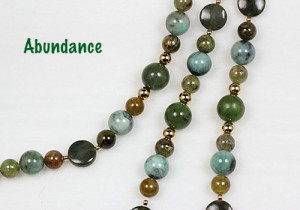 Click on image for larger view!
• Emerald, Jade, Grossular Garnet and Gold
• All of these stones are abundance stones
• Prosperity and health seem to go hand-in-hand!
• Wear on your left wrist to receive abundance


Top of Page
All My Heart - $35

Click on the image for a larger view!
Made with Rhodochrosite, Rose Quartz, Kunzite and Silver, this is a bracelet for everyone in these challenging times that can help you open your heart, stay in your heart space and experience unconditional love for others. It can also help you realize the love you need to have for yourself as a wonderous Creator Being!


Top of Page
Cutting Cords - $35

Click on image for larger view!
• Amethyst, Citrine, Ametrine & Gold
• Ametrine is the mixture of Amethyst and Citrine in one stone, and is essential for cutting cords
• Great for protection in general, and for accessing Greater Self



Top of Page
Dolphin Connection - $53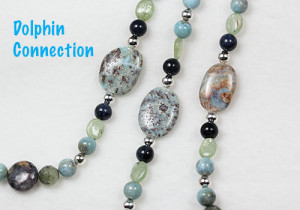 Click on image for larger view!
• Larimar, Green Kyanite, Prehnite, Dumortierite & Silver
• Larimar is the "dolphin stone"
• Dumortierite enhances psychic ability
• Prehnite aids communication with etheric beings (dolphins often work in the etheric realms)
• Green Kyanite is a heart-based psychic stone


Top of Page
Grounding - $35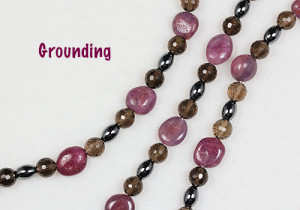 Click on image for larger view!
Made with Ruby, Hematite & Smoky Quartz, this bracelet is a good combo if you feel you are in survival mode and feel you just can't get your feet under you. Ruby keeps you centered in the heart and is an essential heart stone for psychics. Hematite and Smoky Quartz are premier grounding and protection stones


Top of Page
Inner Guidance - $35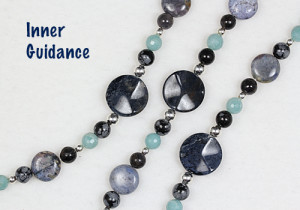 Click on the image for a larger view!
Made with Snowflake Obsidian, Dumortierite, Iolite, Kyanite & Silver, this bracelet can help you connect to your Greater Self and assist with inner vision and journeying. Use this bracelet to go deep within to find the answers you are looking for.

Top of Page
Magic, Intuition and Protection - $35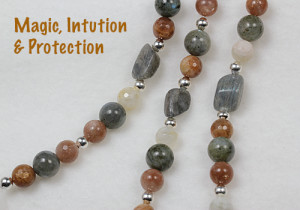 Click on image for larger view!
• Labradorite, Moonstone, Sunstone and Silver
• Move between realities, enhance psychic abilities, psychic protection
• May be made with blue or green labradorite, multi-colored moonstone or rainbow moonstone
• Sunstone and Moonstone for male/female balance

Top of Page
Protection & Clearing -$35
Click on the image for a larger view!
Made with Sugilite, Flourite, Black Tourmaline, Rainbow Moonstone, Amethyst & Hematite, this is a high protection bracelet for heavy psychic attack. Sugilite is a "beacon of light" stone, while Amethyst and Rainbow Moonstone offer psychic protection. Black Tourmaline and Smoky Quartz are excellent grounding a clearing stones, while Flourite bring mental clarity and clearing. Formerly known as the Ultimate Protection bracelet.


Top of Page
Psychic Enhancement - $35

Click on image for larger view!
• Lapis, Aquamarine, Kyanite, Blue Apatite and Silver
• Lapis is a vision and truth stone, while blue apatite and kyanite stimulate psychic awareness
• Aquamarine helps you communicate what you see - good for energy workers!


Top of Page
Spiritual Catalyst - $44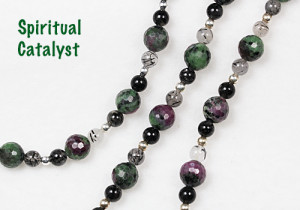 Click on image for larger view!
• Helps with spiritual growth; can force growth even if you aren't ready so the energy can be intense! Increases life force
• Includes: Ruby Zoisite, Black Tourmaline, Silver
• Blingy Ruby Z that may blow your spiritual hair back but the Black Tourmaline will help keep you grounded and protected while you grow.


Top of Page
Sun Connection - $35

Click on the image for a larger view!
Made with Amber, Carnelian, Citrine, Garnet, Sardonyx, Lemon Quartz and Copper, this bracelet aids in warmth, comfort, courage, vitality, action, influx of creative and sexual energy, passion, power, assertive will, manifestation, personal will, mental clarity, imagination, self-confidence and ancient knowledge. These stones are great to wear if you are low energy as it lights your inner fire. Use it to connect with the Creator Being known as the Sun.

Top of Page