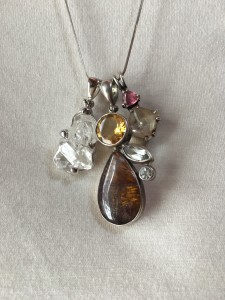 I've posted before about Danburite and how it's been an important tool for us when getting psychically attacked. Once again Stevo and I have found that we need to wear Danburite 24/7 to fend off attacks. In addition, I'm wearing Amethyst Cacoxenite and a Herkimer Diamond on the same chain with the Danburite. It's a bit of a weighty mix, but I've found a lot of relief with this combination. It's also come in very handy as a pendulum. Herkimer is really good at clearing your space so you get an accurate reading.
This particular Herkimer was a gift from Carol so it has even more significance. The Danburite (with a spot of Pink Tourmaline) was a gift from Stevo, so I'm wearing gifts from the two people who love me best and that makes the energy so much stronger. The big pendant is Amethyst Cacoxenite, which Carol has recently started carrying on her site. It has a chunk of Citrine with it (clears all other stones), White Topaz and another stone I don't recall. This was a special find from the 2017 Tucson gem shows. Cacoxenite is a very high vibration stone and it also helps regenerate the physical body. Carol is going to be blogging about it on her site soon.
I've found that there isn't any one thing to do when getting energetically attacked. Everything becomes important; grounding, breathing, being careful what you think, what you eat, how you act, clearing your living space, etc. Gemstones are simply one tool in the toolbox but they are an important tool for me. They are friends, colleagues and helpers. Thank you Goddess!
~ Dooney