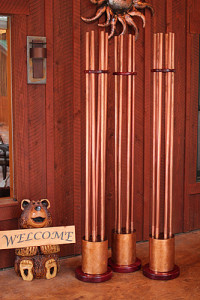 Carol's three super Cloudbusters are now being raffled! These aren't just ordinary Cloudbusters! These are three-of-a-kind, special edition, signature series, copper-encased Cloudbusters. Carol has been planning these cloudbusters for several years, after finding a large copper tank that she had Don cut into three cloudbuster containers.
Carol says: "We've worked with these CBs and they are like sisters. We hope they end up in different parts of the globe and all connect. They are interactive like a powerwand. You can tell it to go somewhere to dissipate the energy and they go there instantaneously. They are not like an ordinary cloudbuster, although they do the same thing. They have added abilities, such as the interactive feature and the way they work together."
These are the special gemstones Carol has included in each cloud buster:
First Layer
Shungite sphere – EMF protection, will project the CB energy out farther
Magnetic Hematite – grounding, the magnetic quality amplifies the properties of the other gemstones
Black Tourmaline – grounding, protection
Second Layer
Dragon's Blood Jasper – for energy, vitality, stamina, protection, brings everything into balance, fights against injustice
Raw emerald – opens communication with the elementals to impact what the cloudbuster is doing
Jade – prosperity, longevity, guarantees best possible outcome
Red garnet – root chakra, energy, vitality, adds to dragon's blood (doubles its energy)
Special copper coil to disperse the energy of the CB and circulate it
Aquamarine – unconditional love
Danburite – creates complete and pure white light
Selenite – heals anything it comes in contact with, softens energy
Third Layer
Blue Kyanite – smoothing energy, healing
Lapis – throat chakra, promotes truthful communication, helps you see things clearly
Amethyst – crown chakra, feminine energy, protection
Rose Quartz – heart chakra, so that people have a good heart chakra filter for right and wrong, karmic barometer
Moonstone – accessing higher self, feminine energy
Larimar – dolphin energy, feminine energy
Labradorite – higher frequency for the moonstone, helps access higher self and higher dimension, angels
Top Layer
Mixed tourmaline – higher frequency, higher consciousness
Double-terminated Citrine – clears any other stones you put it with, will send energy out in the four directions.
These beautiful cloudbusters feature a purple heartwood base for the copper container and purple heartwood spacer for the top of the pipes. The copper container will be signed by Carol. This is your chance to buy a ticket to win a once-in-a-lifetime creation!
The raffle will end on February 2, 2018 and the winner will be chosen by Carol on that day. Winners will be announced on February 3, 2018 and will be notified by email. You must include your email when you purchase your raffle ticket, or you will be ineligible to win! Carol reserves the right to cancel the raffle at any time for any reason.
Note:  Winners are responsible for cost of shipping the CB base. The weight of the Super Cloudbuster base is 40lbs. The shipping price and payment for all winners will be negotiated with Carol after the raffle is concluded.
The 5-foot copper pipes are not included in the Super CB Raffle, but will be available for any overseas winner who might have difficulty purchasing the proper size pipe outside the U.S. Purchase price and shipping for the copper pipes will be negotiated with Carol after the raffle is concluded.