I've been a bit remiss in posting about some of the gifting we've done on our trip, which is still in progress. We're not quite ready to go home! A few weeks ago we drove into Albuquerque, New Mexico and saw two large weatherballs right next to the highway just outside of town. I continued (driving Carol's truck) into town to get us checked into our hotel. Stevo and Carol (in Stevo's truck with the dogs) took a detour along a frontage road to get to the weatherballs. They found that the weatherballs were surrounded by a shabby, run-down collection of houses, which is kind of weird. Weatherballs are usually on the tops of mountains and kind of hard to reach. They gifted thoroughly in the area, and noticed a black SUV with blacked out windows parked nearby, with the motor running, and the guy in the driver's seat was staring at them and talking on the phone. They were pretty conspicuous in this neighborhood in Stevo's fairly new blue truck.
The next thing that happened was that a drone flew over and hovered over them for several minutes. It was pretty obvious to them that the guy in the black SUV called in the drone. It didn't do anything but watch. Kind of interesting and a first for both Carol and Stevo to be stalked by a drone.
We're in Sedona now and Carol has gone home to be with family. Stevo and I went out yesterday to explore a bit and ended up walking to one of the famous vortices (plural of vortex) in the area. This area is known for New Age nonsense, but I'd have to say that there is indeed a palpable energy here. As soon as we came over the pass to get here and could see the famous red rocks in the distance I started feeling it. I was a bit woozy and off balance.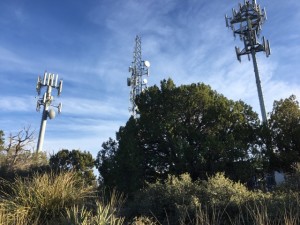 These towers were just along the path you walk to get to the vortex, so an easy target. You can see all the chemcrud behind them. The sky was fairly whited out. They had starting chemtrailing all over the sky as soon as we got to our campground the day before, and they kept spraying even after dark. There was enough moonlight to see the trails. I don't think it's any accident that they located three towers right near a vortex. As we were walking there our dogs started to get very agitated, whining and pulling on their leashes for no reason. When we got to where the vortex is centered and climbed up a big ol' rock for the view, I actually started to feel better. However, there were some pseudo-newagey people there who wouldn't stop talking and let the rest of us have a peaceful moment. And there were several dogs who got agitated enough to bark at other dogs, my Sammy being one of those (much to my embarrassment). We want to go back there and see if the energy is better now that we gifted around the vortex. Stevo did his gifting thing while I kept a hold of the dogs.
Here's the view across the valley from along that trail…again pretty cruddy with chemtrails. Sedona is an absolutely beautiful place and you can feel the energy from the earth very easily here. We actually ran into a woman on this trail who noticed Stevo's necklaces, one of those being an Ankh, two being HP's and a few other lovely gemstone pendants. She stopped him to ask about his necklaces and they got to talking. She said she was helping some people who wanted to feel the vortex energy but couldn't. She made them stand still and ground and just feel, instead of talking. It was so cool to talk to someone who was so aware, and not newagey at all. Just practical. That's really what it's all about. It's not mystical and ritual unless you want it to be.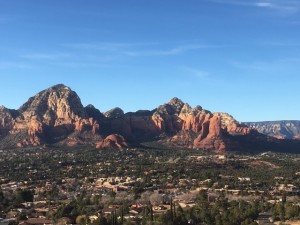 Here's the same view on our way back from the vortex about 45 minutes later. This dramatic clearing actually started happening within about 10 minutes of us gifting the towers. I was talking to Carol about Sedona and she said in her experience a lot of people have done energy work to try and help the vortices here but most of them don't know what they are doing and have actually sometimes made things worse. I think that orgonite, from my experience of gifting, is the fastest and most reliable way to change earth energy from negative to positive. I hope that our gifting here will help.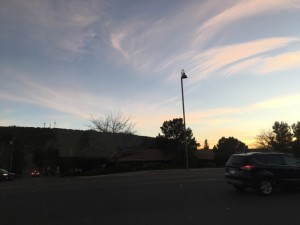 After we got back to town and did a little food shopping, we saw these beautiful sylphs in the sunset. You can just barely see those three towers way in the background on the left. The chem crud totally cleared up and the white out just kind of rolled back from the sky. Today the sky has been perfectly clear and blue, just like we remember when we were kids. We're looking forward to doing some more gifting in the next few days and seeing some more confirmations. It's no surprise to us that this sort of dramatic change happens but it's always fun to watch!
I wanted also to say a few words about my last post about our weird "Lucifer" experience. We all agreed that it's probably the weirdest thing that's ever happened to any of us. For Carol, that's saying a lot! She's had a lot of weird things happen in her life. Lucifer is the word we chose to describe the energy that came into our camper, but you could call it anything that means "pure evil". There is no mistaking that kind of energy. Stevo felt this was a direct challenge for him personally and he let us know that he was willing to defend against that energy no matter what. We told him we would stand with him. We were all a little leery of going to sleep, not knowing what might happen on the etheric. Carol and Stevo have both had many experiences of someone trying to kill them in the etheric realm while they were sleeping. Needless to say, none of us slept that night. But I'm happy to report that we are all still alive! In addition to wearing Morgonite, we were also all wearing some form of Ametrine as we had been experiencing other energy attacks on the trip. Carol and I found some beautful Ametrine pendants and bracelets in Tucson. It was really worth the trip to get some powerful etheric tools.
~ Dooney