For most of my life I've celebrated Christmas like most people in America: cookies, cards and gifts, wrapping paper and the tree. As a kid, it was all about what I was going to get. I had no idea what the celebration was really all about. As I got older I began to wonder why we all had to go through this incredibly stressful and expensive ritual. Now, for the past 10 years I've really tried to step away from the commercial hype and try to celebrate the season in a more personal way. It's hard to do when everyone else is so caught up in the rituals. I've never been comfortable with rituals and with doing things the way everyone says I should. I've gone along but I haven't liked it. Instead of buying presents for everyone I usually donate to a food bank or something.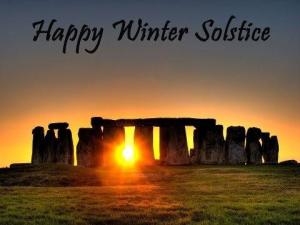 Now, at 50, I'm finally doing what I want to do. And what I want to do is celebrate the Solstice. I just don't know how!

I've always been attracted to the Summer and Winter Solstice and I don't really know why. The Summer Solstice starts on June 21, which is the first day of the Cancer sun sign, and I'm a Cancer. I've always been attracted to Sun energy, and this past summer Stevo and I started to do safe sungazing with pretty amazing results. The Winter Solstice is supposed to be a celebration of the coming of Spring. The sun will be shining longer and longer each day after December 21st. It's a celebration of coming out of darkness and into the light. I can get behind that!
So I want to create some traditions. Stevo and I were going to have a big bonfire on the 21st but it was so rainy and wet here that we knew it wouldn't work. My sister sent me a Rosemary tree with little lights on it, and I'm using that as a kind of celebration of light with herbs…kind of cool. I've been looking it up on the web to find what other folks do for the Solstice but I haven't found anything that resonates with me yet. Carol celebrates the Solstice instead of Christmas, so the next time I get together with her I'll be sure to quiz her. It's a bit daunting to find your own traditions when you are pretty much going against the grain of your society, but Stevo and I have always be iconoclasts so it won't really be any different from gifting orgonite and doing energy work, right?

I do celebrate the birth of Jesus in my heart, but since historians can't agree on when he was born I don't feel particularly attached to December 25th except as a family and societal ritual. Stevo and I give thanks every day for Jesus, God, the Universe and whomever else is out there helping us: dolphins, wingmakers and other entities. We wouldn't be able to do the work we do without the help of all our etheric friends.
Happy Solstice! If you celebrate Solstice, let me know how you do it.
Dooney